Mabel "Tiny" Allison was a clog dancer and teacher from Stanley, Co. Durham.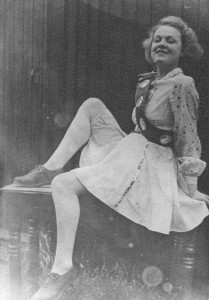 She had learned her clog dancing from Harry Robinson, also of Stanley, obtaining her ballet and tap repertoire from a Madame Rogers of Newcastle.  Later, after seeing her dance in 1949 Dickie Farrell taught her his championship steps.
She competed in theNorthumberland and Durham Championship at Durham in 1936 and won it at when  held at Hexham in 1949.
She ran a dancing school in Stanley generally teaching ballet, stage, clog and tap until the competition in 1949.  The IRT were told that she stopped teaching clog dance after 1949, perhaps as a result of the unpleasantness at that competition.   Her clog dance pupils included:
Brian Kennedy
Dorothy Kennedy
Doreen Kerr
Michael Smailham
Jackie Toaduff – from 1949
All her pupils essentially learned the same clog material, although of course the older more experienced children learned more complex steps. In later years she was assisted in her classes by some of her older, now adult pupils, particularly Doreen Kerr.
Although unable to teach members of the IRT through ill-health, her steps were recovered from a number of her pupils and were subsequently published in Metherell, C., Tiny Allison. The Hornpipe Steps, Newcastle: Newcastle Series, (2009).
Information derives from and interviews Tiny Alison on 15/9/1980 and 23/11/1980, with Ivy Sands on 2/11/1980, Doreen Kerr on  1/3/1982  and Kennedy, Douglas, "The Hexham Festival", English Dance & Song, 13.4 (1949), 56-58.