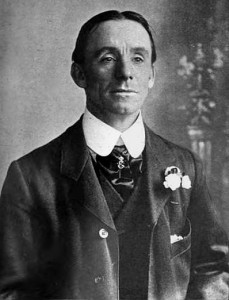 Born George Wilde Galvin (1860-1904).  He adopted his step-father's stage name of Leno.
He was apparently taught to dance by his elder brother Henry Galvin and, at the age of five, performed with him in a clog dance duo under the name "The Great Little Lenos".
It is known that Leno's first major competition was at Wakefield, Yorkshire, although the date is uncertain.  In 1880 however he won the World Clog Dance Championship at Leeds in May 1880 eventually winning the championship belt outright at Oldham in 1883.  However he found that his dancing was not really appreciated by audiences in London and the south of England and so concentrated on his comedy act, becoming the best-known and most highly paid performer of the period, particularly famous for his pantomime work where he took the part of the the dame.
Information from:
Wood, Hickory J., Dan Leno, London: Methuen & Co, (1905)
Leno, Dan, Dan Leno, Hys Booke, London: Greening & Co, (1901)