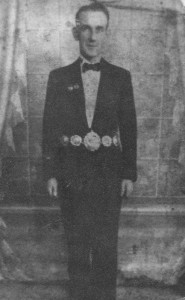 Clog dancer from Blaydon, Co. Durham. Died c1940.  His brother Peter spelled the surname Dailey, however published sources suggest Daley as being the format used by Joe.
Joe had learned to dance, with his brother Peter from their father.  He in turn had learned from his father, Patrick Dailey who had lived and danced in Cumberland (Peter said he was a champion) and had moved with his family to Tyneside at some stage.
Joe Daley entered several competitions from the age of nine (none have been traced and only one was mentioned by name, that at the Kings Hall Newcastle ) but first entered the Northumberland and Durham Championships when these were held at Stanley, Co. Durham in 1935, when he won.  He won again  when the competition was held in Durham in 1936, but was beaten into 2nd place when the competition was held in Gateshead in 1938.  It was said that the latter was the only competition he had ever lost.
Joe's pupils included:
Madge Humble
"Darkie" Robson
Unfortunately when interviewed Peter Dailey could not remember any steps other than Double Shuffles and some step units..
IRT were told b Dickie Farrell's son Wheaty Farrell on 11/10/1980 that  Joe was one of his father's pupils, however in the light of the information from other interviewees this is perhaps unlikely.
Information on this page derives from an interview with Joe's brother Peter Daley on 10/2/1981 and 28/5/1981, the Stanley News for for 24/5/1935 and  21/6/1935 and the Durham Chronicle for 18/9/1936.  His obituary appeared in an unknown local paper in about 1940.