Memories of Entering the Northern Counties Clog Championships 1976 – 1983, Lynette Eldon & Sue Jenkinson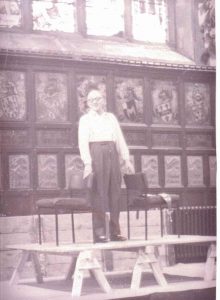 Our interest in clog dance began at our folk club, Folk Union One in Hull. We saw Sheilagh Roberts perform steps she had learned from Johnson Ellwood of Chester le Street, whom she had visited weekly whilst at Newcastle University. The percussive sound, the rhythm and the seemingly intricate step patterns fired our enthusiasm immediately, we had to learn.
In those few early years we were very lucky to see Johnson himself, to show him our progress and learn new steps. Johnson was slight of build, he always wore a suit and trilby hat and a wide smile. His eyes twinkled and his face conveyed his love of the dance and his joy at the obvious interest we showed. Johnson was also a spinner of tales, he once told us, "I was just waiting for the kettle to boil when Dan Leno came to me with a step". Johnson called it Dan Leno's Walking Step, a favourite in our repertoire today. He also told us that "In my boxing days I would often do a quick double shuffle to distract my opponent".
There were three generations of Champions in his family, his father Jimmy, Johnson, and Mary his daughter. It was Johnson's dearest wish to revive the Northern Counties Championships which had lapsed in the 50s. In 1976, Durham City Folk Festival agreed to host a revival and in August that year a Novice Competition was held. Those of us from Hull had no option but to enter, Johnson was so insistent. So five dancers and two musicians made their way north not having the least notion of what to expect. All we knew was that we had to dance six steps of our own choice off each foot and finish with a double shuffle off. There would be four categories of judging – time, beat, execution and carriage and that marks would be awarded out of 100. We believe the judges included Mary Jameson (Johnson's daughter) and John Surtees. In later years we remember other judges being Cathal McConnell, Alan Bell and Margaret, Johnson's granddaughter.
We arrived at the magnificent Durham City Hall and entered the beautiful oak-panelled room with stained glass windows and hung with portraits. There was a stage at one end with a dancing platform on top, in front were the judges tables. There was a real sense of occasion and Johnson was there at the front, beaming! This felt like an important event.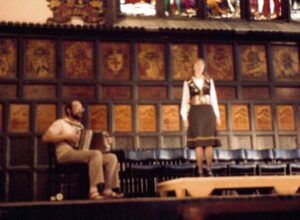 In a back room we met the other competitors, there were nineteen of us in all and we were amazed to encounter so many fellow dancers. We drew lots to determine the dancing order, Lynette remembers she drew nineteen, last to dance.
Stepping out onto that platform was daunting, earlier the room had been empty, now it was completely packed with enthusiastic and curious spectators. There was a buzz of excitement, this was all new to most of the audience too as it had been over twenty years since the last competition. We had been told to acknowledge the judges before and after dancing and we were given a brief opportunity to set our time with our musician, then we were off.
The dancing platform was not very stable and one of our friends, dancing in an early place, had to contend with it coming apart – she valiantly finished her dance.
The room was completely silent for each competitor during the dance but on completion the audience erupted! Sue's dance started with a step we called 'Stamp' to hopefully make an impact, she also remembers seeing Rita Jewitt, the organiser of Folk Union One, sitting very near the front and smiling her encouragement. Lynette's memory is of executing the step 'Forgot me Not' and suddenly realising there was no stage beneath her heel drop as she had moved too far back, fortunately she kept her balance and was able to continue.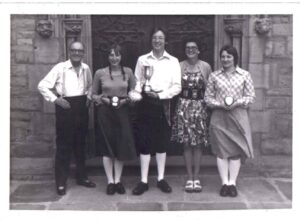 The winner of the competition was Peter Brown, scoring 95 marks, he received The Ellwood Cup. Sue was awarded 94 marks, receiving the 2nd place trophy. Lynette was placed 3rd with 87 marks (points deducted for the aerial heel drop!) We were amazed to be awarded such high places. Every competitor received a medal with gold, silver and bronze being awarded to the first three places.
After the competition we were thrilled to see Johnson take to the stage to perform a few steps, he had a metal plate in his ankle so he was supported by two chairs over one of which was draped his Championship belt.
The next year 1977 saw the Novice competition continue and the introduction of The Championship proper, the winner of which would be awarded the Championship Belt. Dancers had to perform ten steps and a double shuffle. Unfortunately Johnson did not live to see these competitions but he did know that they were to take place.
So we found ourselves competitors in the revived Championship. Our abiding memory is of seeing Doris Hawkes for the first time, it was a jaw-dropping moment! Her steps were so intricate, her dancing so light she seemed to float. Doris was some years older than us and a pupil of Johnson but she had clog dancers in her family. We believe either her grandfather or uncle had appeared in the Music Halls.
When the results were announced there was a tie for one of the places (we knew it wasn't for first place!) We, Lynette and Sue, were asked to dance again. Now here's the thing, after dancing the first time, we had visited the bar, to calm our nerves, Vodka and Lime had never tasted so good! It transpired that Lynette could hold her liquor better than Sue, she was awarded 2nd place beating Sue by one point. Doris, of course, won the belt. We were awarded plaques and medals.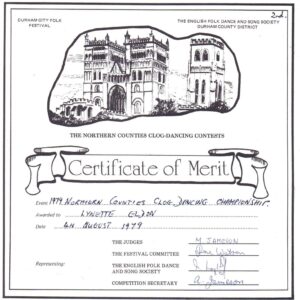 In 1979 we both entered the Championship again but this time with varying success, Lynette got 2nd place and Sue got cramp! According to Mrs Marhoff her face turned green, but she managed to continue and Lynette was so impressed. Doris won again. Three consecutive wins gave her a belt to keep as had been the custom in the old championships.
That year, 1979, a Pedestal Competition was introduced, though this was held in a Durham University Building not the City Hall. Competitors had to perform six steps and a double shuffle. Dancers would be disqualified if they stepped off the pedestal. Lynette thinks that the routine had to include a turning step. She says "I was shaking so much I don't know how I got through the dance" (Who could imagine a 2 feet square dancing area 6 inches from the floor could engender such terror). Her relief at getting through the ordeal turned into surprised delight when she was awarded 3rd place, winning a trophy and a bronze medal. Lynette continued entering the pedestal competitions gaining silver medal places until 1983 when she finally won gold.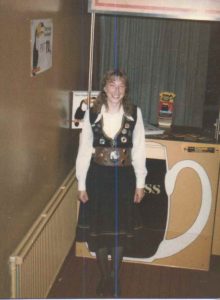 1979 saw another welcome addition to the event when Guinness started sponsoring the Championship. They gave a winners' cup and engraved pewter tankards for the top places each year, which the competitors kept, and they opened The Guinness Bar. Lynette made good use of her newly won tankard and the bar!
This was the last time Sue competed. She focussed her energies on teaching young dancers in Hull. In 1980 a Junior Competition was instituted, in this and subsequent years her pupils entered and took the two top positions. Other Hull dancers continued to enter the Novice Competition with great success.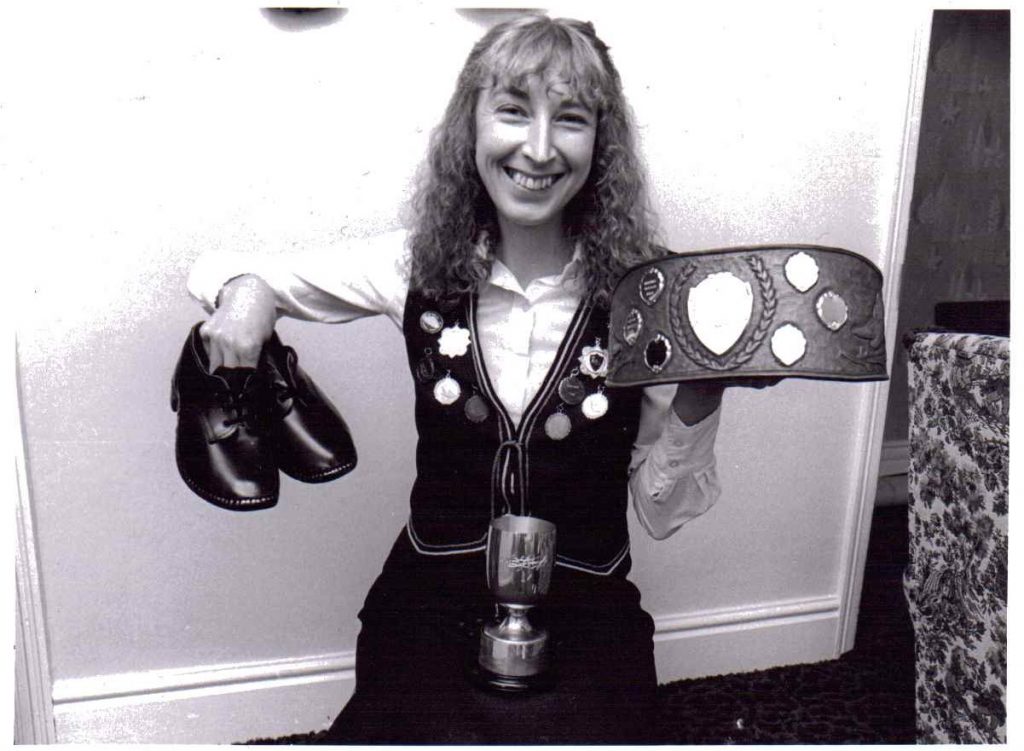 Lynette entered the Championships every year and gained 2nd and 3rd places until 1982. In 1982 she was again drawn to dance last. It was a good field of nine dancers. Lynette says "I couldn't decide whether dancing last was a good or a bad thing but it was a long wait! Stepping out onto the stage the atmosphere was, as usual, electrifying. I went into automatic pilot and did my dance." As Lynette walked off to tremendous applause, her musician Pete Fletcher was heard to say quietly "Let them pick holes in that".
They found just one, Lynette was awarded 99 marks, losing one mark in the beat section – that pesky backslice! She had won the championship belt at last and a gold medal. Old friend Rennie Pickles, Cropper lad and post card stall proprietor at the event, later sent her a postcard which she still has, its message – "Have you stopped smiling yet?"
1982 was the last year the competitions were held in Durham City Hall. In 1983 they were moved to a Durham University building and in our opinion, the event lost much of its impact and atmosphere. This was the last year Lynette entered.
We are so pleased we felt compelled to enter those early revival competitions. We entered for Johnson knowing it made him happy but it benefitted us enormously too. Competition dancing made us practice hard and focus on timing, execution, beat and carriage, realising that every detail is important. The experience has stood us in good stead for we have come full circle and are now honoured to judge The Northern Counties Championships and The Northumberland Championships held each year at The Morpeth Gathering.