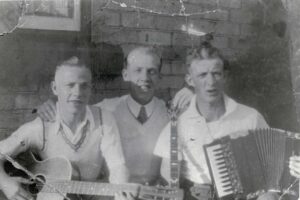 Clog dancer, shown in the centre in the photograph, with two of his brothers  Born in Pegswood, Northumberland on 11th September 1914.  His family moved to Linton, nearby in 1924.  In 1938 Sammy moved to the south of England to find work and remained there until his death on 12th November 1993.
Initially a pupil of  Jimmy Ellwood with whom he performed as a youth. After he had learned six steps he was passed on to Eddie May in about 1927 and subsequently to George Golightly of Ashington.
Competed (unplaced) in the 1935 Northumberland and Durham Championships at Stanley, Co. Durham. He also recalled dancing at events in Amble, North Seaton, Morpethand Blyth, Northumberland and was said to have been the "Northumberland Champion" between 1931 and 1933..  He judged at the Four Northern Counties Championship in 1976.
In the early 1980s's Sam became a member of the Reading Step and Traditional Dance Group and regularly taught at their Clog and Step Dance Festivals.  He had steps in both triple-time hornpipe (4/4) and waltz (3/4) rhythms. Full details, together with notations, are available via the links below.:
Sammy Bell's Hornpipe Steps
Sammy Bell's Clog Waltz
Sammy was filmed in 1981 by Barry Callaghan of Garland Films. The film was shot in two parts; the steps in Reading, Berkshire, on 21st January 1981 and the interviews, with Ann-Marie Hulme, at Hedgely, Buckinghamshire, on 16th May 1981.
Information from an interview on the 26/5/1981, the Stanley News for 21/6/1935 and an MSS list of pupils in Jimmy Ellwood's handwriting shown to the IRT by Angus Catanach together with:
M. Cherry, Originality.The Steps of Samuel Bell,  Twyford: The Author, (1984)
M. Cherry, Originality. 40 Years of Clogs and a Drum,  Victoria BC: Trafford Publishing, (2007)