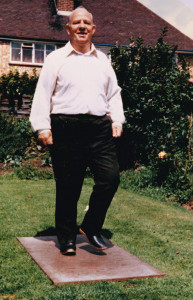 Clog dancer. Initially a pupil of  Jimmy Ellwood with whom he performed as a youth.  After he had learned six steps he was passed on to Eddie May in about 1927 and subsequently to George Golightly of Ashington.
Competed (unplaced) in the 1935 Northumberland and Durham Championships at Stanley, Co. Durham. He also recalled dancing at an event in Amble, Northumberland (the "Feast").  He judged at the Four Northern Counties Championship in 1976.
In the early 1980s's Sam became a member of the Reading Steps and Traditional Dance Team and regularly taught at their Clog and Step Dance Festivals.  He had two routines which he invariably performed and taught:
Sammy Bell's Basic Clog Hornpipe
Sammy Bell's Exhibition Clog Hornpipe
Sammy Bell's Clog Waltz
Information from an interview on the 26/5/1981, the Stanley News for 21/6/1935 and an MSS list of pupils in Jimmy Ellwood's handwriting shown to the IRT by Angus Catanach.