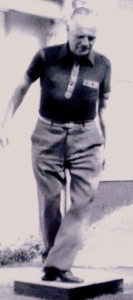 Although never formally taught to dance, he picked up material from a number of relatives and entered his first competition at the age of 7 in 1919.  In particular he recalled learning material from his uncles John and Albert Crocker.  The latter was reputedly a particularly fine step dancer and Les was proud of his "Albert Crocker's Double Backstep" which, although he rarely performed it, features in the published notations and on one of the films below and which he considered to be a competition winner.
Much work on Bob's stepping was done in the 1980s by Ann-Marie Hulme and Peter Clifton, who published a series of sets of notes:  A-M. Hulme & P. Clifton, Dartmoor Step Dancing, Newcastle: Newcastle Series, (10/85). 1st Rev 11/85, 2nd & 3rd Rev 1986, 4th Rev (with C & A.S.Metherell) 1989. Les' steps, background material and information of Devon Step Dance competitions were later published in C. and A. Metherell, Devon Step Dancers 2. Leslie Rice, Newcastle: Newcastle Series, (1991).
The following further films are available:
Off-air clip Leslie Rice performing.  1981.
Leslie Rice filmed at his home in 1988.