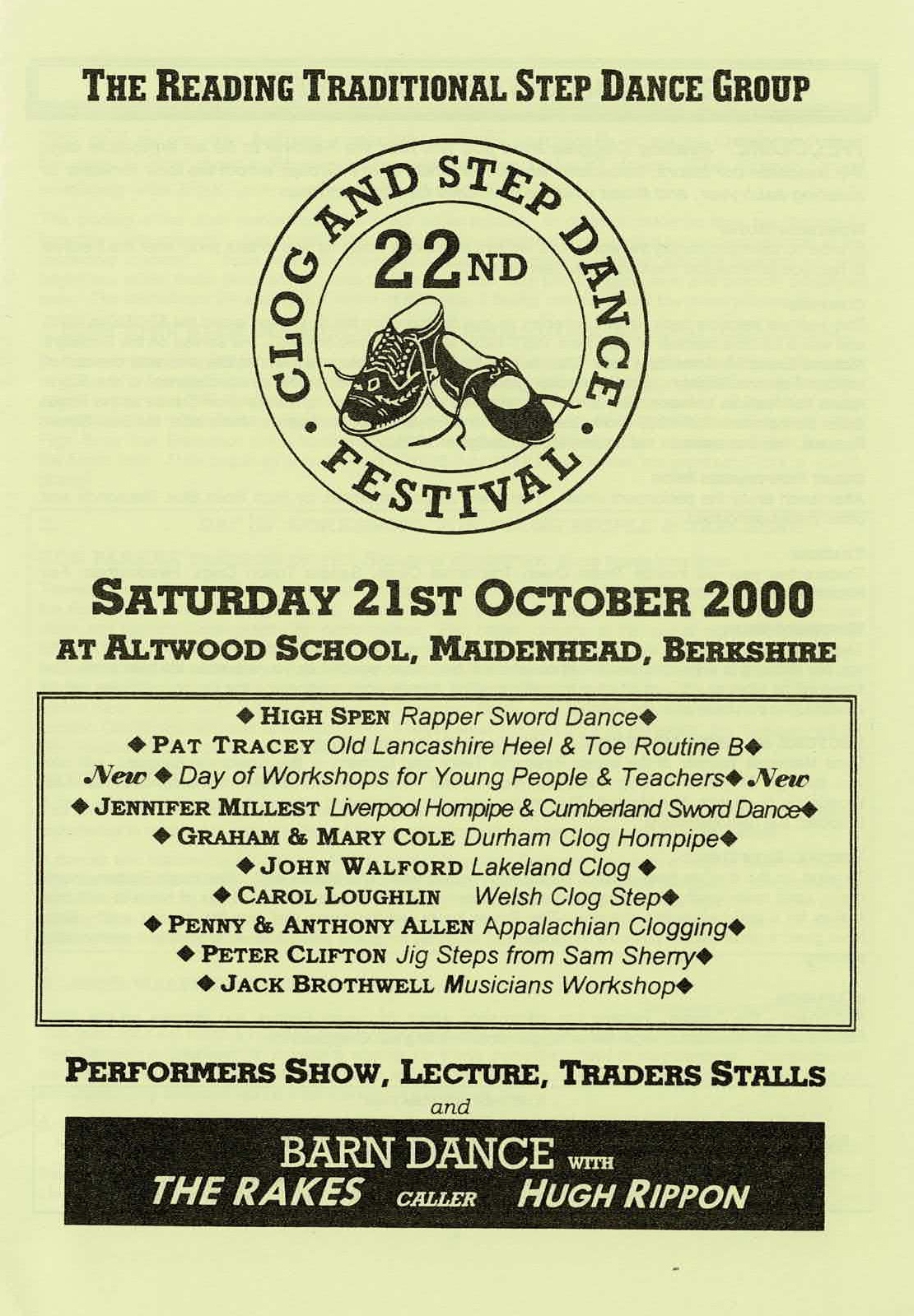 The Reading Step and Traditional Dance Group held day of clog and music workshops in 1979. In 1980 this was renamed as the Clog and Step Dance Festival
The 22nd Clog and Step Dance Festival was held on 21st October 2000, at Altwood School, Maidenhead.
In addition to the film clips below a copy of the programme is available.
The performances are followed by the Workshop Showcases further down this page.
Performance Showcase
Appalachian Clogging by Broken Ankles
Pat Tracey's Slow Hornpipe by Crosby Lake Clatters
Hambone Percussion by Julie Young
Welsh Clog by Annie Moor and Mike Cherry
Steps Collected in the North East by Instep Research Team
Ontario Waltz by Jo Harmer
Rapper Dance by High Spen Blue Diamonds
Workshop Showcases
Appalachian Cloggine with Penny and Ross Allan
Sailor's Hornpipe with Bob Parker
Lakeland Clog with John Walford
Rapper Sword dance with Alex Fisher
Liverpool Hornpipe and Cumberland Sword Dance with Jennifer Millest (not available)
Old Lancashire Heel and Toe Routine B with Katherine Tattersall
Woodland Flowers Routine with Geoff Hughes
Welsh Clog with Carol Loughlin
Sam Sherry's Jig Steps with Peter Clifton
Rapper Dance with High Spen Blue Diamonds