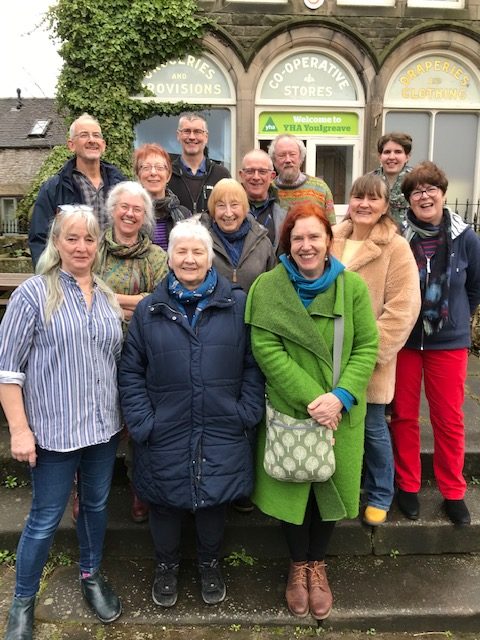 On Friday 10th January, many of the Instep members were checking their sat-navs and train timetables, and a satellite view would have shown them gradually coalescing on a small village in the Peak District. We were staying in the old Co-op, now a youth hostel, with rooms called things like 'Investments and Savings', 'Hardware' and 'Ladies Underwear'.
Most of us were having coffee in the kitchen, starting to feel peckish, when a whirlwind called John arrived with Lisa, and started to create wonderful smells. These were produced by various curries, which were greatly enjoyed, followed by a fruity yogurt mix, likewise. Much chat and catching up.
On Saturday we settled to business, with the meetings running from 10 until 5.30. This may sound dull, but it included many interesting discussions on the definition of step dance, the ownership of clogs after projects, the incorporation of stepping into social dance, what is a 'Lancashire' step etc. We did not necessarily come to any definitive answers to them!
We had reports on the progress of the projects we are supporting by bursaries, as well as our own schemes. The notation of the Elwood North East steps is completed. The Stepping On Conference was analysed, and regarded as very successful, and over 200 video clips have been added to the website. The EATMT Stepdance Day which we supported was also very good, and we discussed ways of supporting this further. We then went on to develop plans for the future. These include the programme for Sidmouth 2020, adding more to the website, especially video material, and interviewing significant dancers, even each other!
In the evening we went to The George Hotel, for a meal and a session. More local musicians joined us, and a fun time was had by all playing great tunes and dancing on the wooden floor, to the amazement of the locals and staff.
On Sunday we had another meeting to sort out the Five Year Plan. This was started last year and needed updating. It still seems to be called a five year plan, not down to four. Then we had to tidy up around the hostel. We had planned a short walk, but it was drizzling and not very tempting, so we packed up and left. The satellite view would show us bursting out from the village and back to Bristol, Lancashire, Wales, Kent, Northumberland etc.