Clog and stage dancer from Colne, Lancashire. He was born in Rawtenstall in 1891 and by 1911 was living there with his mother Sarah Ann and his siblings. He was a French polisher by trade operating from a shop in Church St, Colne until at least 1947. He had been taught by a Dot Arlyn in about 1905 apparently at the gymnasium in Nelson. He considered himself to be a comic dancer and did acrobatics as well as clog and sand dances. He also performed a duet clog dance with his teacher.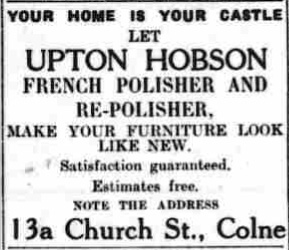 He was obviously well-known as a dancer, being recorded as judging an old-time waltz competition in Derby in early July 1922.
He was visited by Julian Pilling in 1959 who was able to obtain three "toe and heel" steps and a "soft shoe shuffle step" from him. These were later published: Pilling, J., "The Lancashire Clog Dance", Folk Music Journal, 1.3, 158-179.
The heel and toe have been translated into Newcastle Notation and are available here. The soft shoe shuffle step is identical with schottische step 2 collected from Mrs Gunstone and is notated here.

Julian Pilling was filmed by Roy Dommett on Sunday 6th September 1964 at the Durham Ring Meeting, run by the Morris Ring. The dance was filmed without music, but serves to resolve many of the issues with the published notations. The first step on the clip comes from Mrs C. Goodwin, the next three from Upton Hobson and the final two from an unknown source.
Information derived from the Barnoldswick and Earby Times 1/8/1944, the Derby Daily Telegraph 6/7/1922 and Pilling, J., "The Lancashire Clog Dance", Folk Music Journal, 1.3, 158-179 and a letter to Tom Flett 29/11/1959.