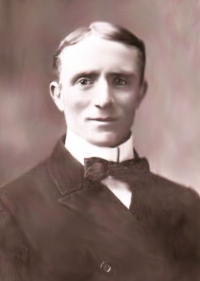 Tom Leamore (1866 – 1939) was a professional entertainer who occasionally included clog dancing in his act.  He first appeared in music hall in 1880 and although he seems to have included clog dancing as part of his act in his early years he appears to have phased this out as his career blossomed although he would dance a couple of steps if the audience called for them.
Although, like many other dancers of his period he is often cited as a "Champion" there is in fact no evidence that he ever competed, let alone won a competition.  However, such was his reputation that his name was raised as a possible entrant in the World Clog Dance Championships held at Bow, London in 1898, causing a flurry of excitement and engendering several challenges and side wagers inviting him to dance off against various other performers.  He does not appear to have risen to the bait!
A good account of his performing career can be found on the Music Hall Guild website.
Information from The Era  5/2/1898 and 12/2/1898, 12/2/1898 (2).