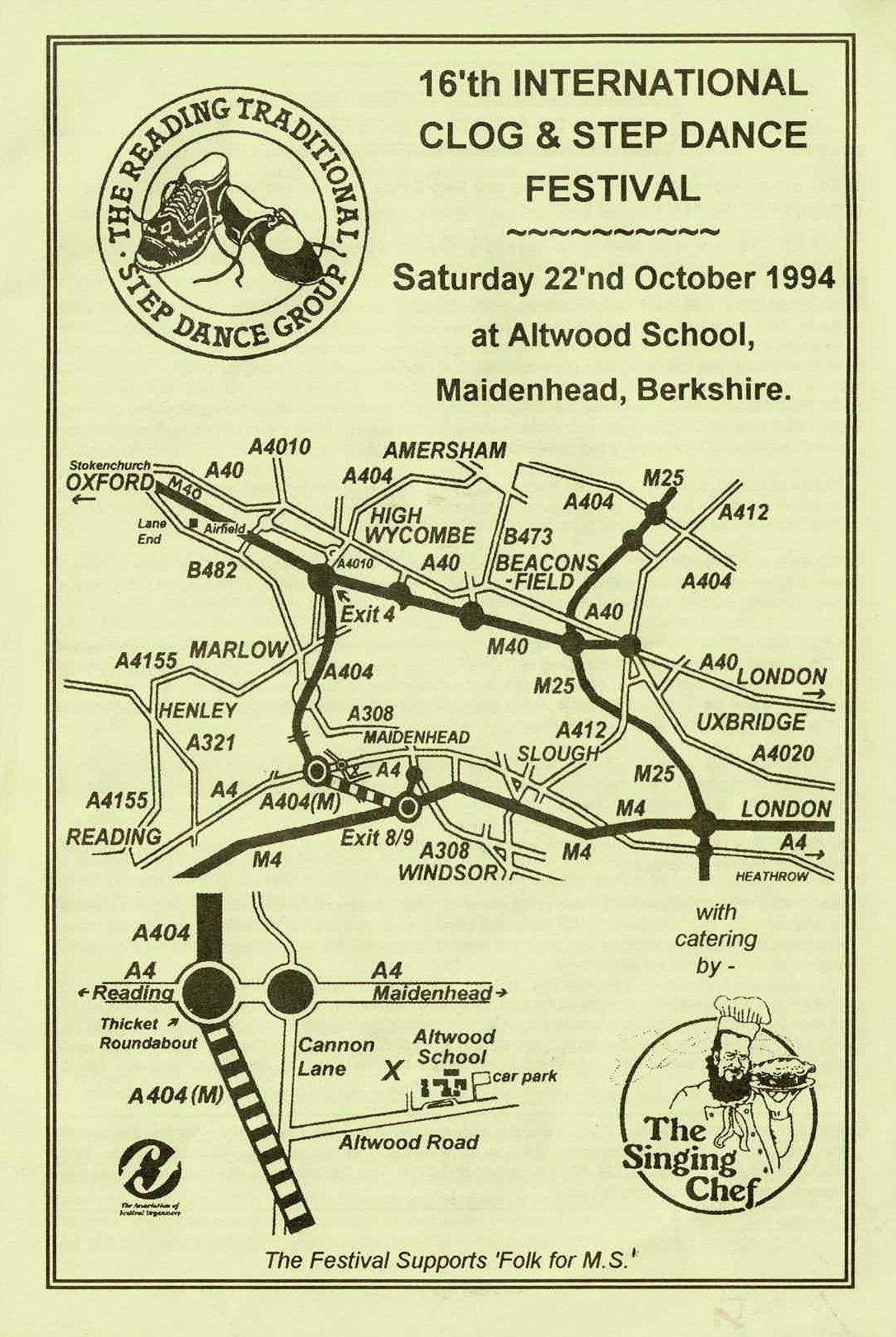 The Reading Step and Traditional Dance Group held day of clog and music workshops in 1979. In 1980 this was renamed as the Clog and Step Dance Festival.
The 16th Clog and Step Dance Festival, on 22nd October 1994, was held at Altwood School, Maidenhead, Berkshire.
The workshops were followed in the afternoon by a performer's show and later by a workshop showcase. There were also performances during the evening celidh. The main guests for the day were Melanie Jordan, Tony Barrand & Kari Smith, Jay & Geoff Cubbitt, Alex Woodcock, Lynette Eldon, Pat Tracey and Mick & Celine Tubridy. The balance of the workshops were taken by members of the RSTDG.
The final event of the day was a lecture by Joan Mick & Celine Tubridy – Traditional Step and Social Dancing in Ireland.
In addition to the film clips listed below a copy of the programme is available.
Workshops are followed by the Performance Showcases further down this page.
Workshop Showcase
Alex Woodcock's clog waltz taught by Alex Woodcock
Northumberland & Durham Clog Hornpipe taught by Mike Cherry
Beginners Lakeland Clog beginners taught by John Walford
Bill Gibbons' Canal Boatman's Steps taught by Melanie Jordan
Lakeland Ragtime Routine taught by Ian Dunmur & Leslie Gowers
Dartmoor Stepping taught by Jennifer Millest
Northumberland/Durham Champion Clog Hornpipe taught by Lynette Eldon
Traditional Irish Hornpipe taught by Celine & Mick Tubridy
Sailors' Hornpipe, Scottish Step Dance taught by Colin Robertson
Lancashire "Irish" Steps taught by Pat Tracey
Marley Buck and Wing taught by Tony Barrand & Kari Smith
Appalachian Freestyle flat footing taught by Jay & Geoff Cubbitt
Performer's Showcase
Cape Breton Strathspey and Reel Steps by Jo and Simon Harmer
Ottawa Valley steps by Jo and Simon Harmer
Jig Dolls by Jenny Foster and Julie Franklin
Waltz Clog by Cloverleaf Clog
Shepherd's Dance by Cloverleaf Clog
A Job Of Journey-work by Celine Tubridy
Lakeland Clog Hornpipe by Ian Dunmur
North Lancashire Competition Clog by Jennifer Hill
Mrs. Willis' Rags by Jennifer Hill
Northern Clog Hornpipe Steps by Alex Boydell
Clog Steps in 9/8 time by Alex Boydell
Northumberland and Durham Championship Clog by Lynette Eldon Military Drumbeat clog routine by Pat Tracey
Appalachian Clogging by Touchwood Clog
American Tap Routine by Becky Daybles and Sophi Keen
Professional Pedestal Clog by Ronnie Collis
The evening Celidh featured performances by The Newcastle Cloggies:
Lakeland Three Hand Reel
Veronica Ryan's Buck and Wing Steps
Diddy Dixon's Exhibition Hornpipe
Lesley Gowers:
Miss Gayton's Hornpipe
Francis Allison:
Marion Cowper's Pedestal Dance
Padiham Panache:
Sam Sherry's Hornpipe
Reading Clog and Traditional Step Dance Group:
The Priest in His Boots