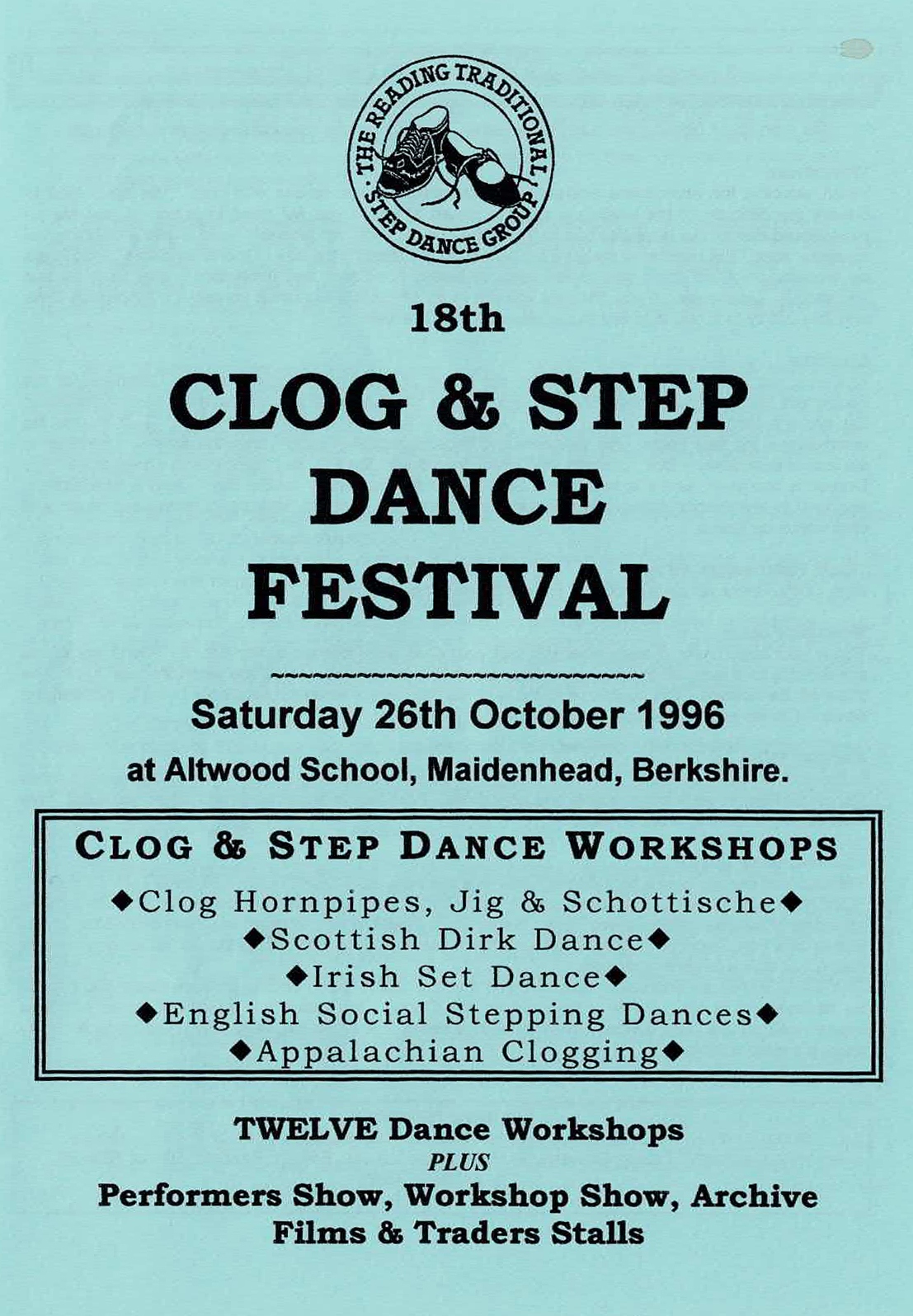 The Reading Step and Traditional Dance Group held day of clog and music workshops in 1979. In 1980 this was renamed as the Clog and Step Dance Festival
The 18th Clog and Step Dance Festival was held on 26th October 1996, at Altwood School, Maidenhead.
In addition to the film clips below a copy of the programme is available.
Details of the Performers Showcase follow the Workshop film clips.
Workshop Showcase.
Northumberland and Durham Clog with Peter Brown
Lakeland Clog with Gill McNab
English Social Dances with Stepping with John Walford
Sammy Bell's Exhibition Hornpipe with Tony Sever
Run o't Mill with Theresa Hindle and Deborah Riley
Lily of Laguna with Gwen Naylor
Irish Set Dance with Val Knight
The Dirk Dance with John Wesencraft and Jane Lloyd
Sam Sherry's Jig Steps with Peter Clifton
Appalachian Clogging with Ross Allan
Old Lancashire Heel and Toe with Pat Tracey and Katherine Tattershall
Adamson's Clog Hornpipe with Ian Dunmur
Performers Showcase.
The Honeysuckle and The Bee by The Northampton Four
Stage Tap by Ronnie Collis
None So Pretty from Fieldtown, Oxfordshire by Jack Brown
Cape Breton Stepping by Frank McConnell
Miss Gayton's Hornpipe by Lesley Gowers
Step Dance Tunes from the New Forest by Stan Seamen
Yorkshire Clog by Gwen Naylor
Northumberland and Durham Clog by Peter Brown
French Canadian Step Dancing by Ross Allan