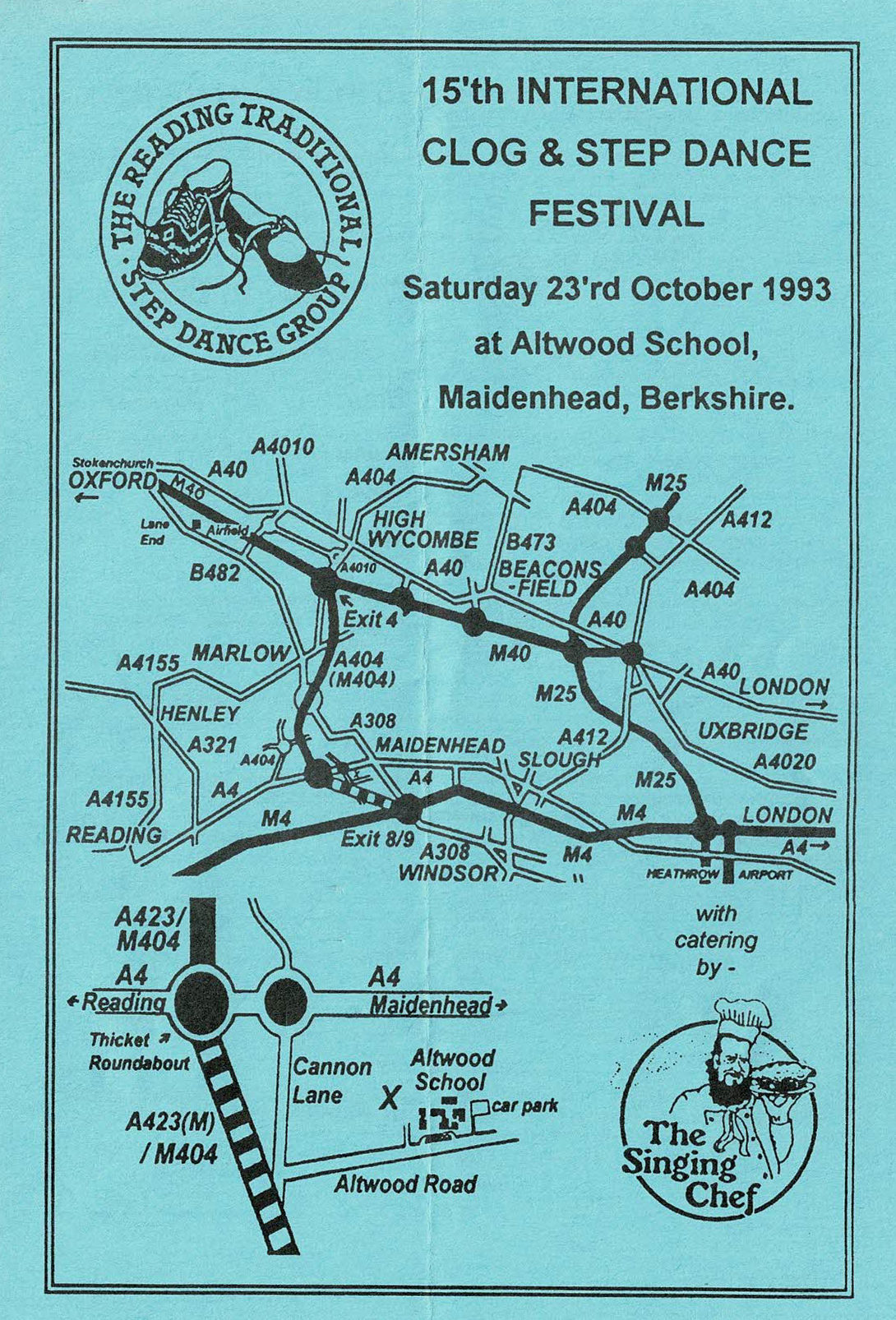 The Reading Step and Traditional Dance Group held day of clog and music workshops in 1979.  In 1980 this was
renamed as the Clog and Step Dance Festival
The 15th Clog and Step Dance Festival, on 23rd October 1993,  was held at Altwood School, Maidenhead, Berkshire.
The workshops were followed in the afternoon by a performer's show and later by a workshop showcase. The main guests for the day were Mick Mulkerrin, Geoff Hughes, Ross Allen,  Alex Woodcock, Lynette Eldon & Sue Jenkinson, Pat Tracey and Melanie Barber.  The balance of the workshops were taken by members of the RSTDG.
The final event of the day was a lecture by Joan Flett – Remiscences of Collecting Traditional Dance In the British isles.
In addition to the film clips listed below a copy of the programme is available.
Workshop Showcase
Alex Woodcock's clog hornpipe taught by Alex Woodcock  
Lakeland Clog beginners taught by John Walford 
Lancashire Waltz taught by Pat Tracey 
Flowers of Edinburgh, Scottish Step Dance taught by Colin Robertson 
Sean Nos steeping taught by Mick Mulkerin 
Northumberland and Durham Clog Hornpipe taught by Geoff Hughes 
William Adamson's Clog Hornippe taught by Leslie Gowers 
Northern Clog Waltz taught by Lynette Eldon and Sue Jenkinson 
Marion Cowper's Pedestal Clog Hornpipe taught by Ian Dunmur 
Single Time Irish Step Dance taught by Chris Brady 
Bert Bowden's Schottische taught by Melanie Barber 
Appalachian Freestyle flat footing taught by Ross Allen 
Performers Showcase
Appalachian flatfooting performed by Ross Allen 
Clog Waltz performed by Greenwood Clog 
Jackie's Broom Dance performed by Cloverleaf Clog 
Sam Sherry's Polka Steps performed by Melanie Barber
Welsh clog steps performed by Cobblers Awl 
Jig Doll Duet performed by Val Knight 
Dartmoor Stepping performed by Rachel Hitchcock 
Clog Waltz for Six performed by Green Ginger 
Sixteen Step Lakeland Exhibition Hornpipe performed by Deborah Kermode 
Alex Woodcock and Kay Nightingale 
The Richmond performed by Madelaine Inglehearn and the National Early Dance Group 
The New Female Saylor performed by Madelaine Inglehearn and the National Early Dance Group 
Pat Tracey's Sailor's Hornpipe performed by Camden Clog 
Pat Tracey's Lancashire Irish Routine performed by Camden Clog 
Old Lancashire Toe and Heel Routine performed by Pat Tracey 
Ermintrude's Waltz performed by the Tankerton Steppers 
Sean nos stepping performed by Mick Mulkerrin