The Reading Step and Traditional Dance Group held day of clog and music workshops in 1979.  In 1980 this was renamed as the Clog and Step Dance Festival.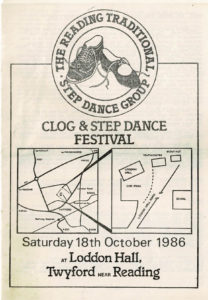 The eighth Clog and Step Dance Festival, on 18th October 1986,  was held at the Lodden Hall, Twyford, Berkshire.
Workshops were as follows:
The Sword Dance of Papa Stour and the Hebridean Weaving Lilt..  Colin Robertson.
Lakeland Hornpipe, less familiar steps.  Ian Dunmur.
Absolute Beginners Clog. Mike Cherry.
Development of basic steps into a routine.  Alex Boydell. (Half-Day)
Sammy Bell's Clog Waltz and Hornpipe, North-East style.  Sam Bell and Laurie Mulliner.
The Blackbird, Irish stepdance.  Linda Henegahan.
Dartmoor Stepping.  Ann-Marie Hulme.
Johnson Ellwood clog steps, North-East style.  Janet Adlard.
Lakeland beginners.  John Walford.
There were guest performances and a lecture by Pat and Rennie Pickles entitled "Dancing Dolls".
The following are available: Programme.