The Reading Step and Traditional Dance Group held day of clog and music workshops in 1979.  In 1980 this was renamed as the Clog and Step Dance Festival
The ninth Clog and Step Dance Festival, on 3rd October 1987,  was held at the Lodden Hall, Twyford, Berkshire.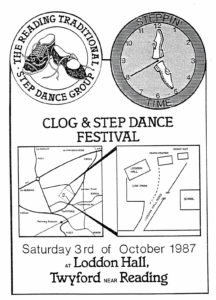 Workshops were as follows:
Earl of Erroll and The Flowers of Edinburgh, Scottish hard shoe step dances.  Colin Robertson.
East Fife Clog Hornpipe.  Ian Dunmur.
French Canadian steps. Mike Cherry.
Freestyle slip jig steps.  Alex Boydell. (Half-Day)
Sammy Bell's Clog Waltz and Hornpipe, North-East style.  Sam Bell and Laurie Mulliner.
Jockey to the Fair, Irish step dance.  Linda Henegahan.
Lancashire hornpipe steps.  Pat Tracey.
Jig routine.  Sam Sherry and Peter Clifton.
Campaign For Real Reels.  Ann-Marie Hulme.
Lakeland beginners.  John Walford.
There were also  guest performances.
The following are available: Programme.